Why New Services Create Enthusiastic Clients
How can valid search results be achieved at a reasonable budget in a very short time? This was the question noventive asked itself in its search for a powerful patent search tool. As an innovative company, they also want to offer innovative solutions to their clients, thus rounding out their top-notch legal services. The efficiency of predori convinced them immediately.
Read here which problems were the basis and which successes could be celebrated.
The noventive group consists of a technology company and an innovative IP law firm. Their vision is to protect tomorrow's most innovative ideas with the latest technologies. "Before using predori, we faced some issues that we wanted to solve promptly. For one, the consultation between client and researcher to create a basic consensus without losing much information was often quite time-consuming. Depending on the complexity of the search topic, several iterations were necessary in order to define the subject of the search in a targeted manner," says Jens Reinhard, a patent attorney & the co-founder of noventive. On the other hand, it was often difficult for noventive to calculate the offer in advance, as searches are dependent on various factors.
The wish of noventive was to be able to offer valid and fast search results at a reasonable budget and if possible as a fixed price. For example, to quickly assess the patentability of a client's idea. The innovative firm strives to provide better services to its clients by giving them an information advantage and by increasing the quality of patent applications and advice through knowledge of the state of the art.
noventive had set itself 4 specific goals:
Obtain valid results in a short time
Make processes more efficient
To present price and performance transparently
Offer clients innovative solutions for optimal IP consulting
When noventive started working with predori, they were skeptical at first and wondered if the tool could really be helpful. But soon after the launch, they celebrated their first successes and were able to appreciate the importance of predori for their work and their clients.
"Integrating predori into our processes was easy and fast. We were fascinated by how efficiently and accurately predori works. The tool's smart features allow us to focus on the facts, so we have more time for our clients. It's a great feeling to work with the tool, which saves us so much time and makes our work more productive!" describes Alexander Füg, CEO & Co-Founder of noventive. He adds that the software simply helps to get to the information we are looking for through the step-by-step support of artificial intelligence. This way, goals can be achieved faster, innovations accelerated and products enhanced.
These were the 3 decisive factors for integrating predori as a research tool into the noventive group:
Cost transparency (calculability of a search)
Time factor for conducting and evaluating a search (results are available within a very short time
Possibility to use predori "together" with the client
Find what you need to find - not just what you are looking for!
noventive uses predori specifically to search together with clients in the initial consultation or the early stages of invention disclosures. In this way, it is possible to quickly determine whether it makes sense to pursue an idea from a patent law perspective. In addition, the prospects of success of different embodiments of an invention can be examined quickly and efficiently. predori thus provides noventive with a solid basis for developing high-quality and price-efficient filing strategies and recommendations on how to proceed to ensure the commercial success of clients.
"predori is a revolutionary tool that works expediently. It is a great relief for us as the software quickly captures the patent relevant information and visualizes it in a matrix. This allows us to advise our clients quickly and efficiently. We thus offer them added value, which inevitably has a positive impact on their technological development. With predori, we can analyze invention disclosures in different fields and, together with the clients, check the chances of success of different embodiments of their ideas and jointly develop IP strategies," says Dr. Stefan Schinkinger.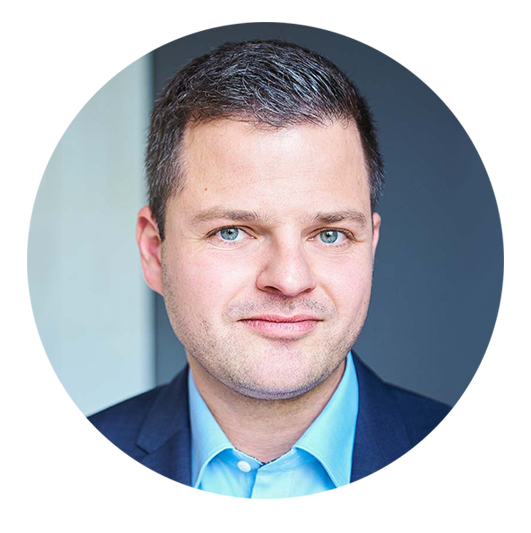 Jens Reinhard
patent attorney, Co-Founder noventive
The noventive group of companies, based in Munich, consists of a technology company, a patent law firm and a partner network of lawyers and law firms. Their vision is to protect tomorrow's most innovative ideas with the latest technologies. In doing so, they put the client and the patent attorney in the center and offer them the best possible services for their everyday life. noventive achieves this through automation, lean processes and innovative solutions.
Since March 2022, all noventive patent attorneys have been using predori. Managing Director Jens Reinhard explains how the daily work routine has changed since then: "Our goal was to find an efficient and innovative solution for our clients. To achieve this goal, we decided to use predori as a research tool. Our experience with predori has been very positive. We have been able to significantly reduce the cost and effort of manual searches and, with the help of predori's intelligent search function, we have been able to answer even complex queries without any problems. Thanks to the extensive data set and intuitive user interface, we can simultaneously work with our clients to provide comprehensive answers to their questions."
"Searching for patent information is a complicated matter. With predori, we work quickly and effectively. By providing accurate results on-demand, we have been able to offer our clients an additional high-quality service – which has ultimately contributed to the fact that we enjoy their great trust", he further states.
We asked our interviewees what adjectives they would use to describe predori? The three IP experts replied without a second thought. Among many quick answers such as "progressive, far-sighted, functional, goal-oriented and helpful", they settled on these 3 character descriptions for predori:
efficient
professional
individualized
noventive integrates predori into their processes in a targeted way, providing innovative solutions for their clients. In this way, noventive provides its clients with an information advantage and increases the quality of advice and patent applications through agile knowledge of the state of the art.
We are proud to work with this highly progressive firm, which creates groundbreaking methods for the contemporary handling of intellectual property.